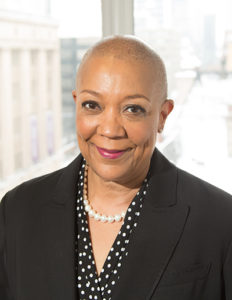 Renée Bazile-Jones
Senior Associate
Renée is President of Diversity Grand Dame, and a Senior Director of Learning, at the Canadian Centre for Diversity and Inclusion. In addition, she is a Senior Facilitator at Connective Intelligence Inc., an international management consultancy.
Renée is a strategic, results-oriented change leader with 30+ years of experience in the areas of equity, diversity and inclusion across a broad scope of business experience. Renée is known in both Canada and the United States for her work in diversity and inclusion management, strategic planning, and the management of change.
As an expert in this field, Renée has worked with many Fortune 500 companies. In addition to this work, Renée has written and consulted extensively on how the world of work will change in the future and she was a featured speaker at the Couchiching Institute of Public Affairs' planning forum on The Future World of Work. Renée co-authored "Measuring the Impact of Diversity", an issues paper co-funded by the Society of Management Accountants of Canada and the Canadian Institute of Chartered Accountants. She has also published articles on Aspects of Sexism and Workplace Harassment for the publication Controllership Alert.
She was a featured writer to "Staff Planning in a Time of Demographic Change".
Renée consults with the rest of the world through her participation in the Global Colloquium on Diversity and Inclusion.